In our last blog post, we talked a bit about the custom desks we've been building for Ramona and Poway homeowners recently. We mentioned some of the benefits of having a custom desk designed and built just for you by a Ramona woodworking company. We even posted some progress photos of one of the desks we were working on.
While a completely custom desk is great, there are also some benefits to customizing an established desk style. First of all, you can get a good idea of the main shape and design of a piece. Not everyone can picture in their mind's eye exactly what they want and be able to communicate that to a woodworker. It can be helpful for them to see a proven style, to which they can add some personalized touches. Second, by customizing an existing design, you can often save some money on the project, since there is usually less design time involved.
In this post, we want to delve a little more deeply into the customization of one of our most popular styles of desks: the Smith Farms desk. We call the Smith Farms desk our "modern farmhouse" desk, but it doesn't necessarily have to look like it belongs on an actual farm. There are several ways to customize the desk so it fits in with your interior design, lifestyle, and the architecture of your home.
The desk we referenced in the last post has a definite farmhouse look and feel. The x-braces on the sides and in the back are a nod to the classic pattern you see on barn doors. The clean lines, painted white base, black hardware, and reclaimed oak desk top also add to the farmhouse style. The Ramona family for which this desk was made was thrilled with the style and how it complements the rest of the furniture and other modern farmhouse décor in their home.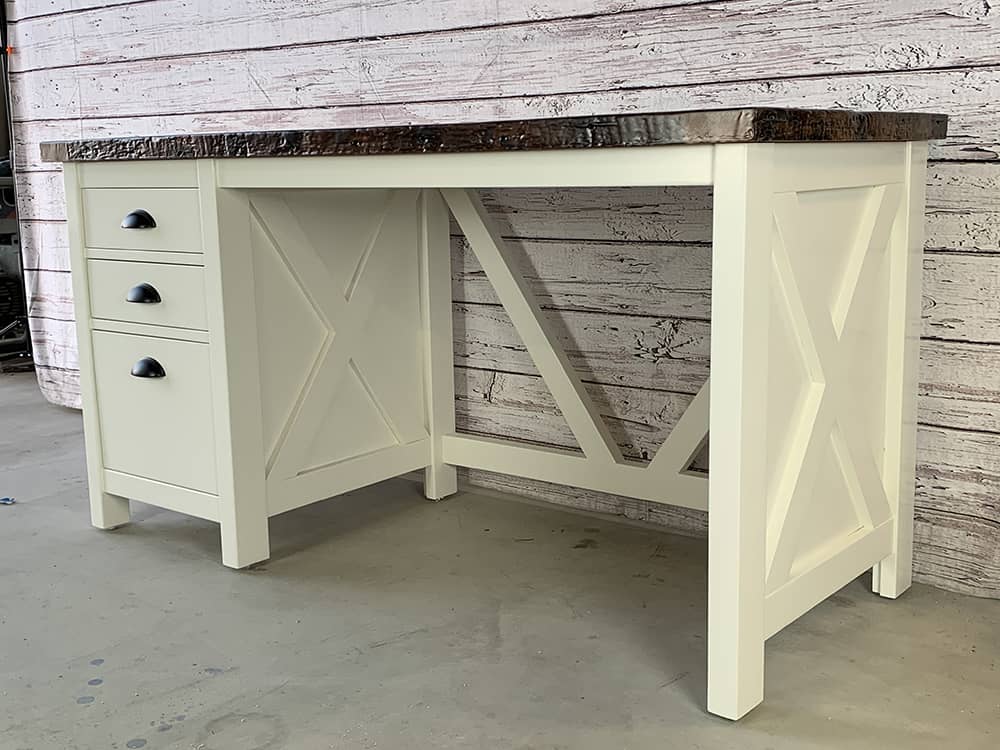 With the second desk we recently made in the Smith Farms style, you can see how the desk can be customized in such a way that it can fit seamlessly into another type of décor that's not modern farmhouse. This desk was made for a young girl's bedroom that has a beach cottage theme. The desk has the same clean lines and painted base as the one mentioned above, but we removed the x-braces to make it less "farmhouse" and more "modern." For this desk, the client wanted the top to be solid black walnut that's made from virgin material, not reclaimed wood. We also had our friends at Merdo Acres add a completely custom epoxy design to the back portion of the desk top that looks like waves and really matches the beach cottage feel. The blue handles on the drawers help give the desk a younger, fresher look that's fit for a preteen girl's bedroom.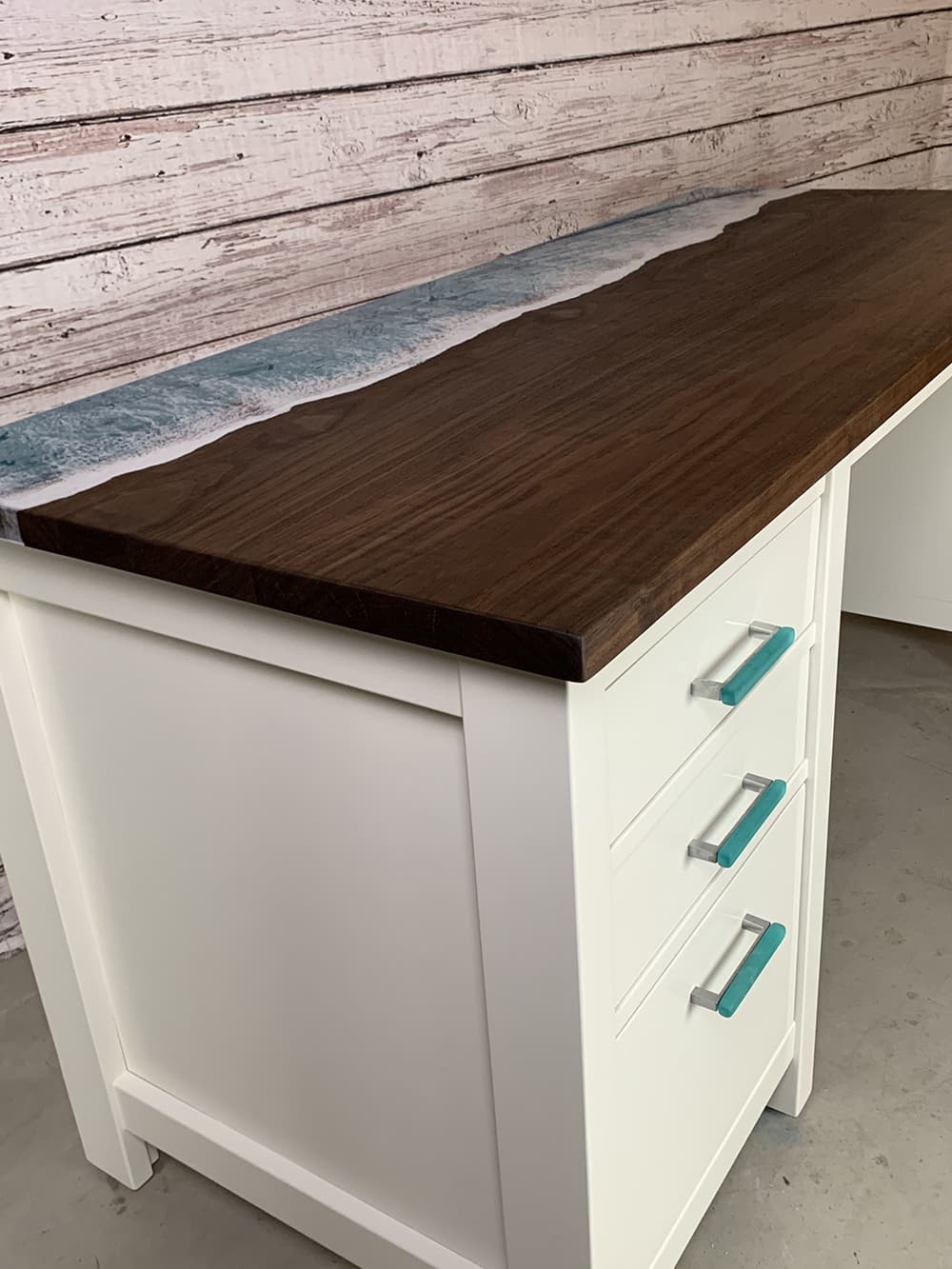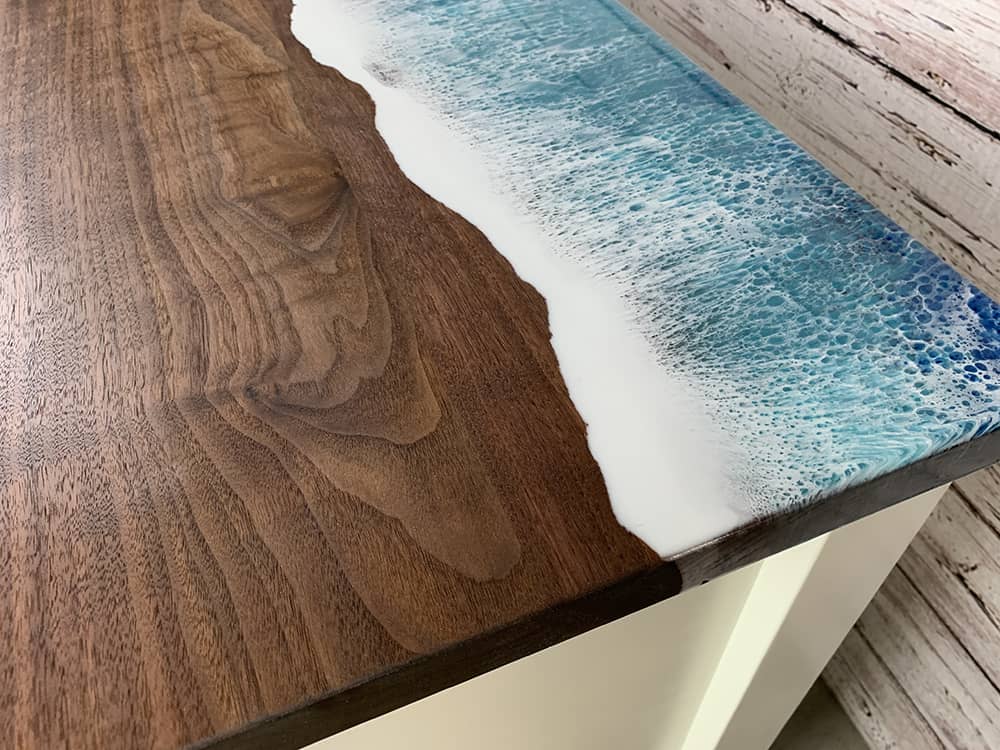 Two desks. Same basic style. Two completely different "feels."
Are you in Ramona or Poway and looking for a custom desk? Let us help! We can design and build a desk that's completely unique to you or customize an existing design that complements the style of your home. Contact us here to get started.