What do you do when you have a home with a large dining room to fill and an equally large family to accommodate for holidays and other gatherings? If you're like this client in Julian, you start shopping for an oversized dining room table. And when you can't find one that's the right size and style for your home, you contact a custom furniture company like Three Pines to design and build one especially for you.
Our clients' home is located in the mountains of Julian and has many elements of the Modern Farmhouse style that remains very popular. You could also accurately describe the style of their home as "refined rustic." The homeowners wanted a dining table that would be a showpiece in their home, but that would also be comfortable for their children and grandchildren to gather around for family dinners.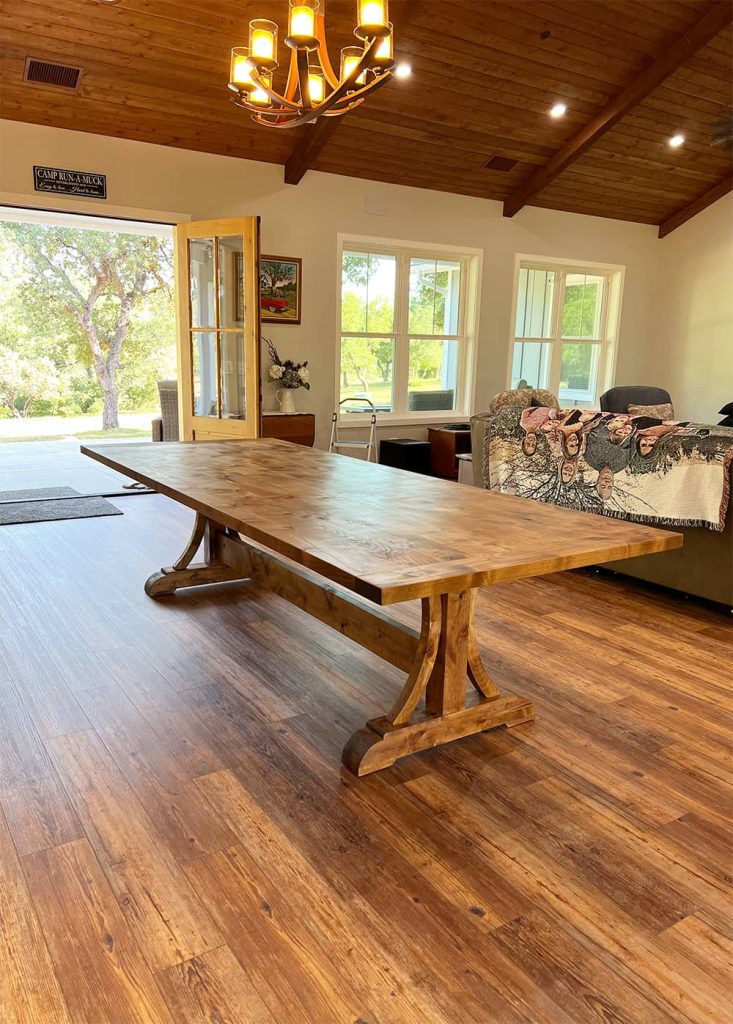 The design we came up with together is that of a traditional trestle table. It has a sturdy look and feel to it, while still having elegant lines. The top of the dining table is 4' x 10' and has what's known as "breadboard ends." This is a classic design element that is typically used to ensure that the tabletop remains flat after the table is finished being built. However, because the top of this table is almost 2" thick, it doesn't need the breadboard ends to keep the tabletop flat. The client just likes the classic look that the breadboard ends provide.
Knotty Alder was selected as the wood to be used in this custom dining table. The entire table is made from solid alder—there is no secondary (cheaper) wood used anywhere. The client chose Knotty Alder because they like the rustic element that the knots in the wood contribute to the look of the table.
We finished this custom dining table with a dark stain and protected the surface with Odie's Oil. We use Odie's Oil on a lot of our furniture pieces because it provides a beautiful finish—enhancing the natural wood grain—while also being all natural.
The finished piece is a beautiful, heavy dining table that will serve this Julian family well for many years to come. And because the clients chose a classic design, it will never go out of style, even as trends in interior design change.
Are you looking for a custom dining table for your home in Ramona, Julian, San Diego, or the surrounding areas? Let Three Pines Wood Co. design and build a custom piece just for you! We specialize in quality construction for wood pieces of all types and styles. Contact us to schedule a free consultation.