Homeowners—especially those who live in standard tract homes—are often looking for ways to give their homes some added character. Adding custom built-in elements is a great way to do that. Recently, we installed a beautiful live-edge mantel in a Ramona home that we think really makes a statement!
A fireplace is typically the focal point of a living room, so dressing it up with a custom mantel can really make a big impact in a room. These particular Ramona homeowners had an existing fireplace with a stacked stone veneer. They wanted to add a mantel that would contribute to the "rustic elegant" look they had going on in their living room. They asked us to create a mantel for them made from a solid piece of wood that had some rustic character to it, but to finish it in a way that would elevate the look of the fireplace.
Along with the homeowners, we carefully selected the piece of wood that would be turned into their mantel. Their final choice was a piece of 300-year-old Black Oak, which we found at a private local sawmill that gives our woodworking company priority access to their premium options. The tree from which this piece of wood was taken came from a property in Valley Center. The homeowners loved that the wood was local, and also that it was responsibly sourced.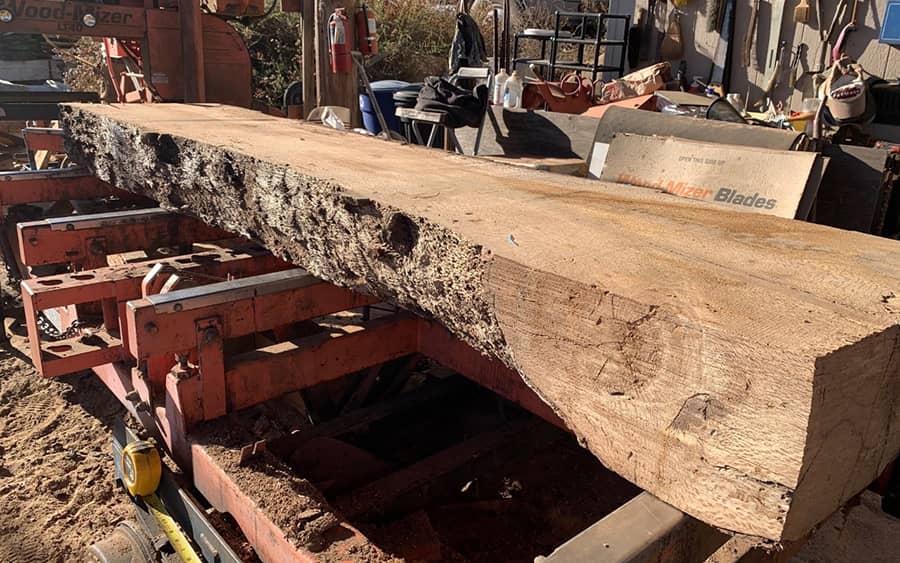 The wood itself has a ton of character! It has a beautiful grain that you can only find in old wood. It also has worm holes and a large crack in the front that contribute to the rustic, natural look of the mantel. The homeowners asked us to maintain the live edge of the wood for added visual interest.
In order to keep the rustic look, but also to make the mantel easy to keep clean, we filled all the worm holes with a black epoxy. Then, we sanded and buffed the mantel to a smooth finish. We finished it off with oil to provide protection and give it a nice, even sheen.
We attached it securely to the wall above the stone veneer. Even if the homeowner decides to place heavy décor items on top of it, it isn't going anywhere! We love how it turned out, and so do the homeowners.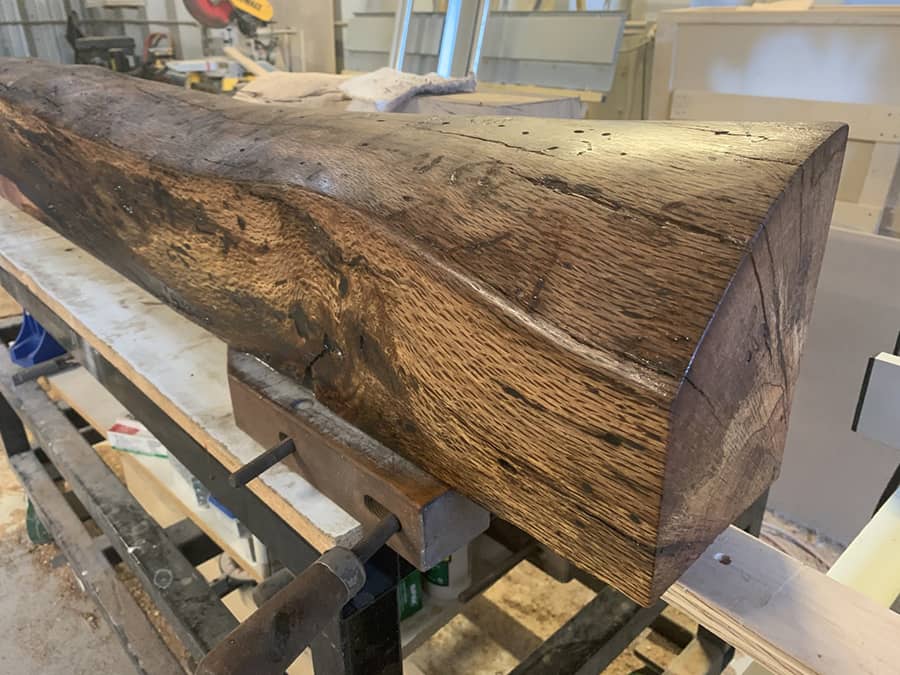 If you are looking for a custom mantel for your home in San Diego, Poway, or Ramona, let us know! We can give you something rustic, like this live-edge mantel, or something more crafted. We will handle the entire process—from design, to sourcing the wood, to building, to installation. Contact us to learn more or to set up an in-home appointment.