Bedside tables may seem like something you can buy at just about any furniture store, but what if you want quality custom pieces? Those can be a little harder to find in the Ramona and Poway areas.
These bedside tables were built for some returning customers who wanted bedside tables in a farmhouse style, but with some custom features that you can't get in stores.
Custom Bedside Tables, Each with a "Surprise"
At first glance, these bedside tables look like nice, professionally built farmhouse pieces, but there's a special element to them that may come as a surprise. Each of the bedside tables has a "secret" pull-out tray built into them. The tray is disguised as part of the faceframe. Unless you were told, you would never know it was there.
Each tray, when extended, can support up to 100 pounds. They're great for holding laptops, plates of food, or any number of things that you only want near your bed temporarily. By special request of the homeowners, each tray is made out of a different exotic hardwood. Hers is made from Bolivian Rosewood, while his is made from Wenge. This type of customization is something you can only get from a custom furniture maker with access to these types of exotic woods.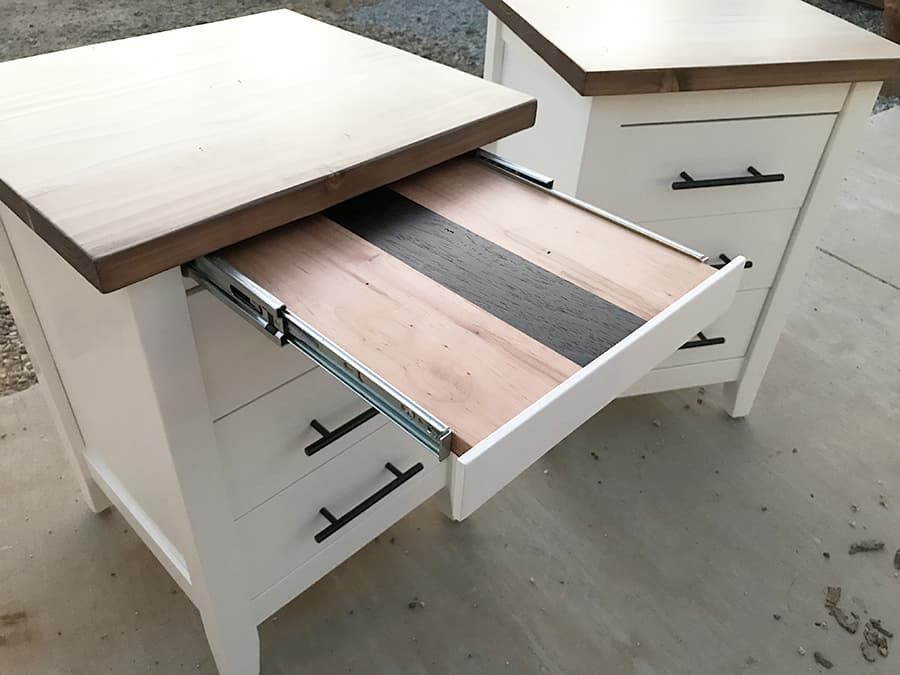 Compact Design, But Highly Functional
Many people just want bedside tables to set their things on—maybe a lamp, a book, their cell phone. These homeowners are a little bit different. They were looking for bedside tables with as much storage as possible. The challenge, however, was that they needed to have a small footprint, since the homeowners didn't have a lot of space on either side of their master bed.
We came up with a compact design that maximizes the usable space of each of the bedside tables. They take up a small amount of floor space, but have a relatively large amount of room inside for various items.
All of the drawer slides are upgraded to withstand heavy use, and the overall construction is extremely solid. We use quality hardwoods throughout, and dovetail joinery on all of the drawer boxes.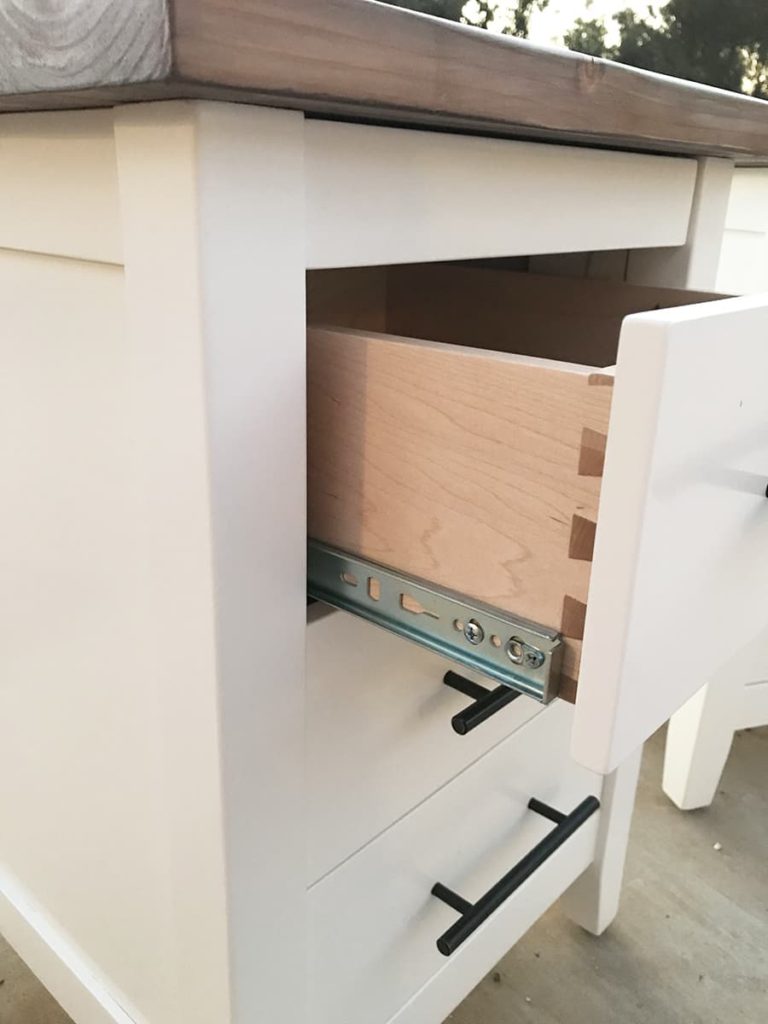 Furniture in our Smith Farms Style
These bedside tables are examples of pieces from our Smith Farms style of furniture. They are part of a six-piece bedroom set, which includes two custom dressers, a bed, and a TV cabinet. All of the pieces perfectly complement each other and have the same paint, top stain, and hardware.
Smith Farms pieces have a standardized look, but can be customized to your exact liking. For example, the tops can be made from any type of wood and stained in any color. The paint color is also customizable, as are certain other details.
"Our new side tables match perfectly with the dressers, bed, and TV cabinet that you built for us. Three Pines continues to be our go-to solution for custom cabinet and furniture projects. We highly recommend Jack for his craftsmanship and attention to detail, and his drive to deliver on our custom requests!" – Leslie S.
If you are looking for custom bedside tables that are built to last, Three Pines Wood Co. in Ramona can provide you with exactly what you are looking for. Whether you like the farmhouse style, or something entirely different, we can help! Contact us today to get started.