We recently got a special request from a family in Escondido who wanted a custom dog kennel built for their home. They didn't want just any dog kennel, however. They wanted one that would be the perfect size for their beloved Labradoodle, but they also wanted it to look like a beautiful piece of furniture that would complement the décor of their house.
Many families choose to have their dogs sleep in kennels overnight. However, if you've ever shopped for dog kennels in your local pet store, you know that most of them are not very attractive. They are typically cheap-looking cages that most people relegate to their laundry rooms or some other out-of-the-way locations so they don't become eyesores in their living rooms or bedrooms.
This family wanted something better for their dog—and for their home. They called Three Pines to have us build them a custom dog kennel that would be both functional and beautiful.
You do such a great job. We will definitely refer you to our friends!

– Vicky C., Escondido
We think the resulting custom dog kennel came out amazing! The main portion of the kennel is made from Knotty Alder wood and stained a dark walnut color. The metal bars on the front and sides are made from solid steel. (Not rebar like you often see in other dog kennels.) The sliding barn doors on the front are hung on a sturdy metal track. The kennel has tapered legs to give it a furniture-like appearance.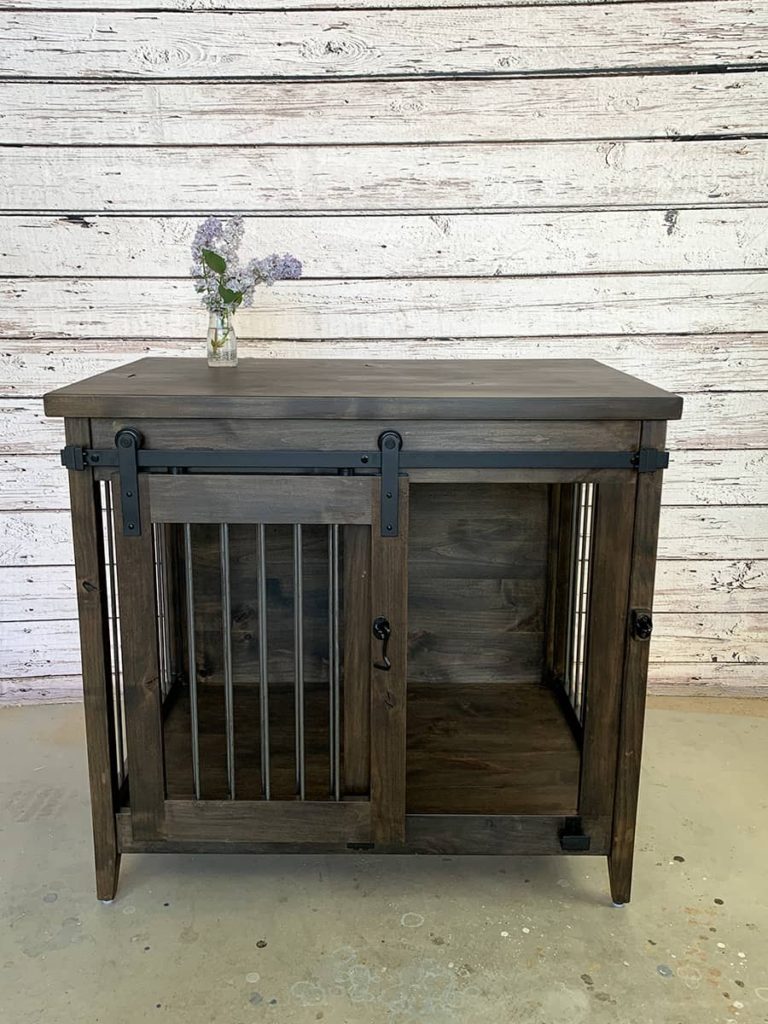 To keep the kennel looking great for many years, despite daily use, we applied a wipe-on poly to protect the wood, as well as a penetrating oil on the metal bars to keep them from rusting.
The family placed the kennel on a wall in between their living room and dining room. At first glance, it just looks like an attractive side table that holds the family's keys and other items. It's not until you look more closely that you realize that it's actually a comfortable dog kennel.
The overall measurements of the kennel are 36" wide x 21" deep x 34" tall. It was made to fit the size of the dog, as well as the specific space it would occupy in the house.
If you're looking for a special place for your dog to sleep at night, let Three Pines help you create something beautiful! Because everything we craft is custom, we can make it in any size or style you wish. It can be painted or stained to match your existing furniture or even built into a larger entertainment or storage unit. The possibilities are endless! Contact us to learn more or to schedule an appointment to get started on your custom project. Our wood shop is located in Ramona, but we complete projects throughout San Diego County.