Custom desks seem to be a hot item right now. With many more people working from and going to school at home, they are looking for desks that will not only meet their practical needs, but that will also be a stylish piece of furniture that complements the aesthetic of their home.
This piece is a highly customized version of our popular Smith Farms desk—our take on a modern farmhouse-style desk. The basic elements are similar to other desks we've built in the Smith Farms style, but the details make it one-of-a-kind. This one was made specifically for a preteen girl's bedroom in Ramona.
Since she is currently being schooled at home, this young girl needed a dedicated workspace—somewhere away from her younger siblings where she could focus. However, she also wanted something that would fit in with the décor of her room.
This particular girl has more refined taste when it comes to interior design than most girls her age. Her room has a sophisticated beachy cottage theme that feels stylish and fresh, without looking too young and overly "girly." We designed her desk to fit in with the theme of her room, and we're happy to say that she loves it! If you know anything about preteen girls, you know they can sometimes be hard to please, so this was a major win!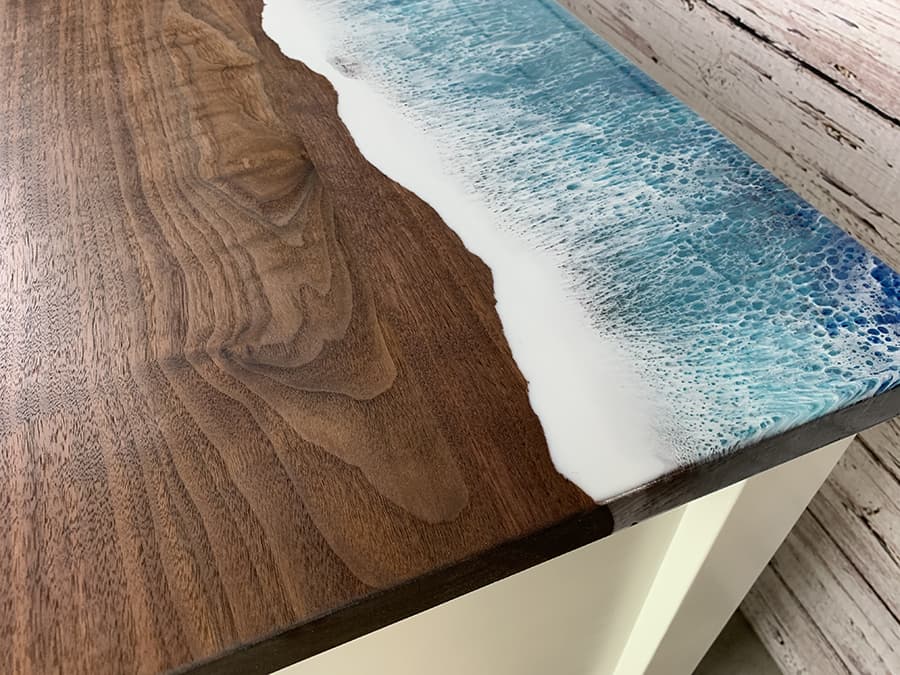 Custom Desk Top Adds the "Wow" Factor
What makes this desk truly special and unique is the top of the desk. It is made from solid walnut wood, and has a completely custom epoxy resin ocean design on the back edge. This detail was done by our friends at Merdo Acres, a store not far from us in Julian, offering beautiful handmade cutting boards and charcuterie boards. Some of the boards they sell have a similar ocean design on them, and we were thrilled when they agreed to give this desk a customized touch. We think it really puts this desk over the top!
We know a beach-themed desk isn't everyone's cup of tea, but we think it's a good example of the level of customization we are able to offer our clients in Ramona and Poway. Are you looking for a desk or some other type of furniture that you can customize to match the style of your home? Contact us at Three Pines Wood Co. We can work with you to design and build exactly what you are looking for!