If you own a home that was built in the last 25 years or so, it probably has some sort of entertainment niche. These niches were put in homes with the idea that you would install a unit for your television and all of the related components (DVD player, receiver, speakers, cable box, gaming console, etc.). Now that everyone pretty much mounts their televisions directly to the wall, homeowners are getting creative with these niches and using them for all sorts of purposes other than housing their TVs.
In this Rancho Bernardo home, the homeowners had already mounted their television above the fireplace right next to their niche. They called in Three Pines Wood Co. to create a custom storage and shelving unit that would match the other cabinetry in their house.
The cabinet at the bottom provides the homeowners with storage for their AV components and other items they want to keep handy, but out of site, and still gives them full access to the AV connections and outlets that are in the niche. The adjustable shelves at the top of the unit give them space to display decorative items. The custom built-in is topped off by crown molding.
The doors, faceframes, and shelves are made out of maple. We mixed a custom stain to create the perfect reddish mahogany color that matches the nearby kitchen cabinets and gives the home a cohesive look. The hardware we installed on the doors also matches the existing hardware throughout the house, and the doors have soft-close hinges.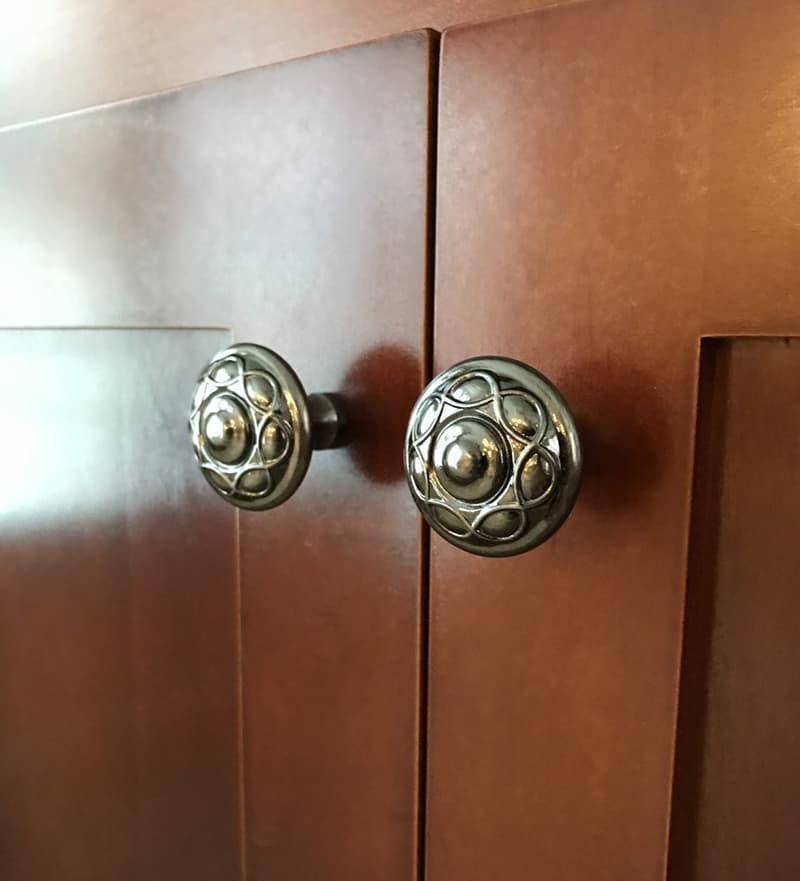 The entire unit fits perfectly into the space. No caulking or extra trim pieces were needed to fill in any gaps. It looks like it was always meant to be a part of this house, and that's what you want with a custom built-in piece. It should feel like it is original to the house—not like something that was added as an afterthought.
At Three Pines Wood Co., we specialize in helping you create the perfect pieces for your home. Whether we're designing and building a built-in unit like this one, a custom piece of furniture, or new kitchen cabinets, we want them to fit in with the architecture of your specific home and also match your style.
Contact us today to set up a consultation, where we can come to your house and discuss your upcoming project. We look forward to working with you!