When you're working with a small guest bathroom, your options for vanities can be somewhat limited if you're shopping in the typical places. And if you want something with some character to it, it can be even more difficult to find the perfect vanity. That was the case for these homeowners in San Marcos. They were completely remodeling their guest bathroom and needed a small vanity to complete the modern farmhouse/industrial look they were going for. The vanity had to fit snugly in in a corner near the door, without crowding the toilet next to it—and it had to be beautiful!
The homeowners contacted us at Three Pines to design and build a custom vanity that would meet all of their needs. We designed for them a custom floating vanity with waterfall sides. It measures 24" wide, 22" tall, and 18" deep. It has open storage underneath the sink, and an offset sink to allow for a larger counter area on one side.
The homeowners wanted to use a rustic reclaimed wood for the vanity, so we went to work sourcing the perfect wood for their project. After presenting them with several options, the client ended up selecting reclaimed Oak from an 1890s barn in Oregon. The reclaimed barnwood has that beautiful grain that you can't find in new wood, and it adds a rustic element to an otherwise sleek bathroom design, which includes brass hardware and glossy white tile in a herringbone pattern. As we built the vanity, we made sure to showcase some of the unique features in the wood, such as nail holes from the wood's previous life as part of a barn.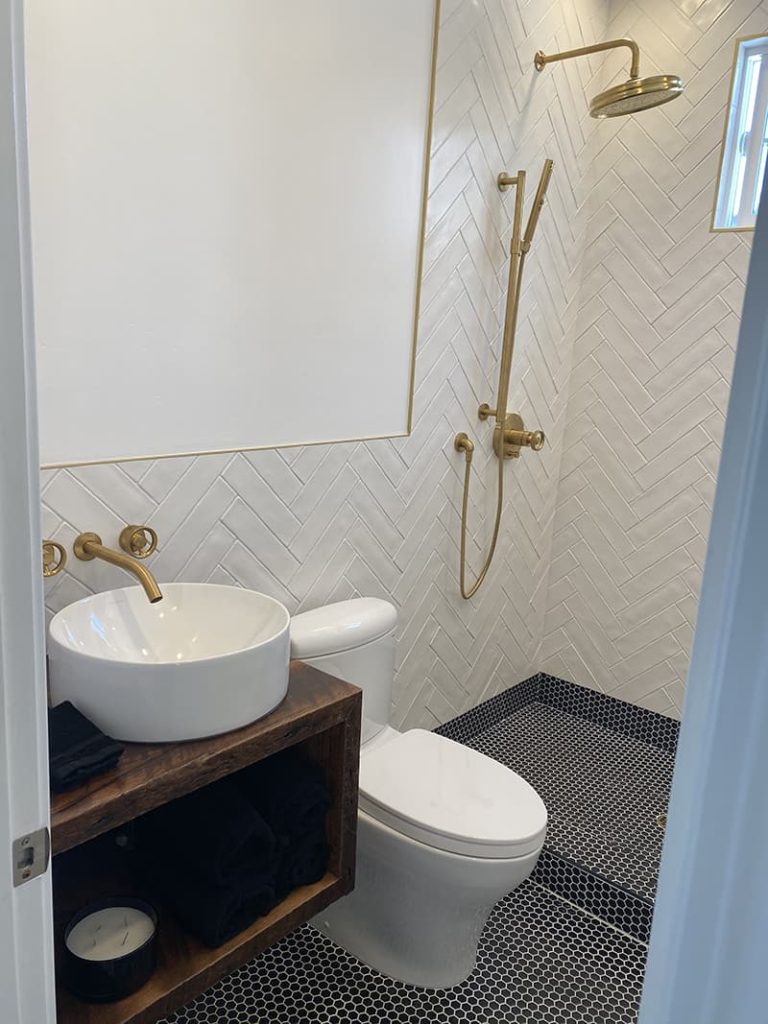 We sealed the wood with a high-quality epoxy to protect it from water damage and to make it easy for the homeowners to keep clean. The epoxy also helped bring out the character of the wood, which was important to the homeowners. The custom vanity is topped with a deep, round vessel sink, and since counter space is limited, the faucet was attached to the wall above.
The design of this floating vanity gives the small space a more open feel, but still offers plenty of storage for a guest bathroom. We built a sturdy mounting system to make sure the floating vanity stays in place, no matter what!
Overall, this custom vanity is the perfect space-saving solution for this small guest bathroom.
If you're in San Diego, Ramona, Poway, or any of the surrounding areas and are looking for custom furniture or built-ins, contact us at Three Pines Wood Co. We can design and build the perfect piece for your home—one that can last for generations.