A lot of San Diego homeowners who are also dog owners love the idea of having a piece of dog crate furniture built for their home. The dog crates sold in pet stores are often unattractive and can be an eyesore in an otherwise well-decorated home. On the other hand, dog crate furniture can be just as attractive as any of the other furniture pieces in your home when designed and built by an experienced furniture builder like Three Pines Wood Co.
If a custom dog crate is something you're considering having built, here are six ideas for how to incorporate one into your home.
Built into an Entertainment Center
A dog crate can be added into the design of your custom entertainment center—one that is either built in or freestanding. This will allow your dog to be in the same room with you as you wind down for the night and watch your favorite television show or stream a movie, or even when you entertain friends. When designed right, the dog crate portion of your entertainment unit will not take away from the overall beauty of the piece.
In Your Laundry Room
If you want your dog crate to be a little more out of the way, a laundry room is a great place to include it. Of course, this will require the space that not a lot of people have in their laundry rooms, but if you're fortunate enough to have a laundry room with some extra square footage, Three Pines could build you a dog crate to fit perfectly in it. You could use the top surface of your dog crate for folding your clean clothes when they come out of the dryer!
As Part of a Sofa Table
One of the easiest ways to include a dog crate in your home's décor is to have it built as a freestanding piece of furniture, such as a sofa table or some other type of side table. It can be built to perfectly match or complement the other furniture in the room. The best part about this type of dog crate is that you can take it with you if you ever decide to move out of your current home.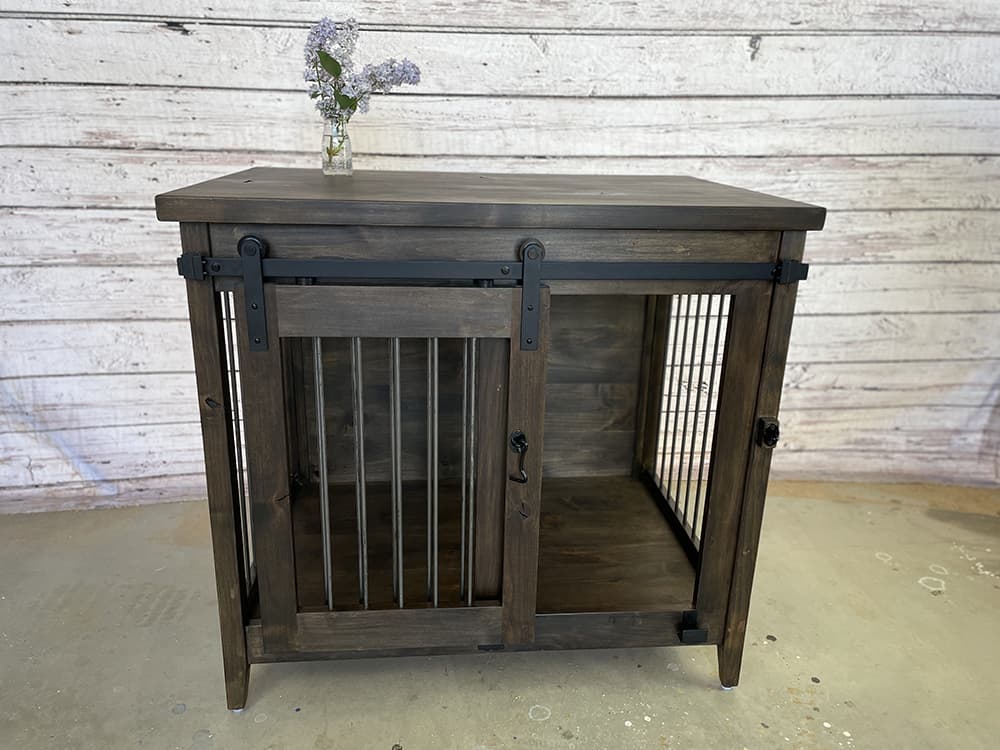 Under a Desk
If you have an office space in your home, you could have a custom desk built that includes a dog crate underneath. Since most modern offices don't require as much storage for papers anymore, you could get rid of some of those filing cabinets and replace them with a space for your pet.
In a Mudroom Cabinet
If you've been thinking about having a custom storage cabinet built for your mudroom, you may want to consider dedicating a portion of it to a dog crate. Your mudroom cabinet can also include space to store items such as dog food, dog toys, leashes, and other pet items you don't want lying around.
As Part of a Custom Kitchen Island
This idea is a little out of the box, but a kitchen island could be a perfect place for a built-in dog crate. Depending on if you want your dog crate to be visible or more tucked away, you could place it on any of the four sides that you want. Does your dog always seem to be underfoot while you're in the kitchen? Put him or her in the kitchen island crate while you're cooking so he or she can still be close to you and not trip you up while you have hot food in your hands!
Working with Three Pines Wood Co. for Custom Dog Crate Furniture in San Diego
At Three Pines Wood Co., we love designing and building dog crate furniture—they are some of our favorite projects! We love the challenge of creating a piece that is highly functional, as well as beautiful. We build every dog crate to withstand regular use, knowing that your dog probably won't be as gentle with their furniture as you would be with yours.
To get a quote on a dog crate furniture for your San Diego home, contact us at Three Pines Wood Co. Every piece we build includes free delivery.