Adirondack chairs are the ultimate outdoor furniture pieces, in our opinion. Not only are Adirondack chairs very comfortable, but they are also classically beautiful. This makes them great chairs for a front porch, a back patio, a balcony, around your pool or fire pit, or anywhere, really.
Three Pines Wood Co. is currently taking orders for this season's limited run of Adirondack chairs. Orders placed within the next couple of months will be delivered in the spring and early summer. So, if you want your chairs before the warmer weather gets here, order yours soon!
San Diego customers who have purchased our Adirondack chairs in the past have nothing but great things to say about them! They love how sturdy and well-made they are—especially in comparison to the Adirondack chairs you find in retail stores. We build them from hardwoods that are suitable for the outdoors, and we use tried-and-true construction methods.
All the outdoor furniture pieces we build, including our Adirondack chair sets, are made to stand up well to the elements. If you want your set stained, we will go over the stain with a protective oil or sealer to help protect your furniture from both sun and rain. If you choose to have your pieces painted, we will use a high-quality outdoor paint with a high-gloss finish. This will make them easy to wipe down when they get dusty.
Five-Piece Adirondack Chair Sets for San Diego Homes
You can order just a pair of Adirondack chairs (or ten), or you can order them as part of our five-piece set. The set comes with two Adirondack chairs, two ottomans, and a small table that is designed to be placed in between the two chairs.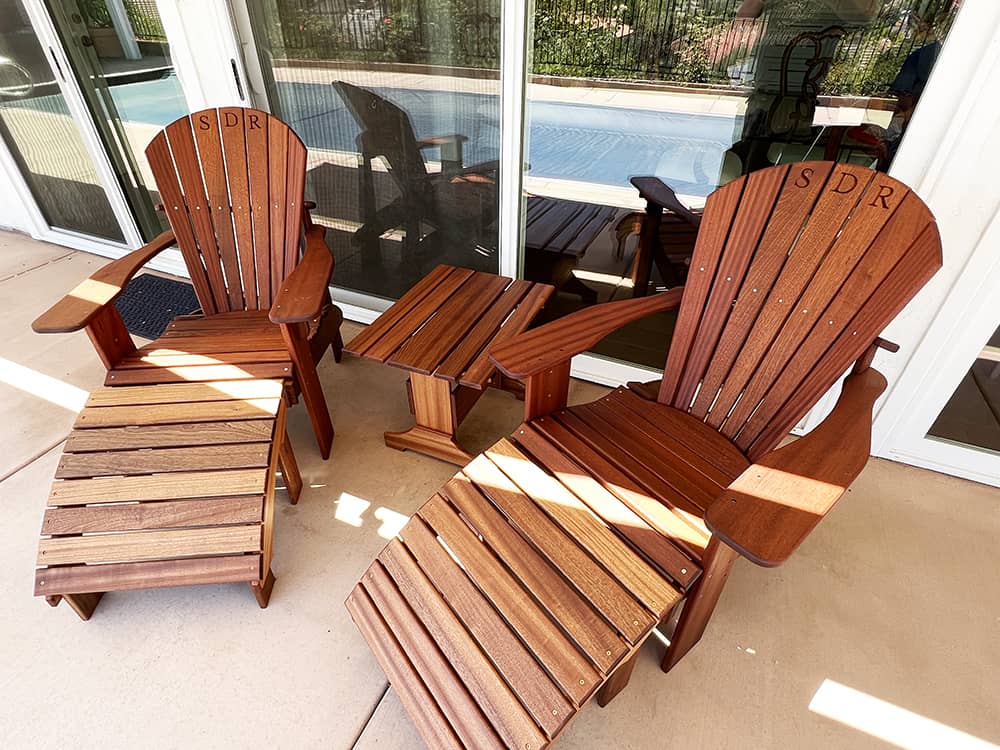 Customization is available on all pieces. Of course, you can choose the finish of your furniture (painted or stained), but you can also add custom details, such as engraving, and choose the type of wood with which your furniture will be built. If you don't know what type of wood or finish will be best, we can definitely make recommendations. We can also vary the size of your chairs so they'll be the best fit possible for your body type.
How Much Do Adirondack Chairs and Sets Cost?
You may have noticed that we haven't mentioned pricing yet. Because every piece we make is custom, and nothing is mass produced, the price for our chairs is not set in stone. The cost of different species of wood is a huge factor in our pricing, but any custom details you want to add can also cause the price to adjust.
Getting a quote on Adirondack chairs is easy, however. Simply contact us through our contact page or by phone. We can talk through the details of what you're looking for and provide you with an estimate.
All of our prices include free delivery within San Diego County. If you live outside of that area, we can give you a quote for delivery or shipping costs.