At Three Pines Wood Co., we love a good set of end tables. The right ones can really help give a room some personality. However, if you only look in retail stores for end tables, you will probably be a bit disappointed in what you find. Most of the ones we've seen in stores are pretty generic and poorly constructed. It can be hard to find something that will stand up well to everyday use and also look great in your home. It's for those reasons that homeowners choose to go with custom crafted end tables, like the ones we design and build at Three Pines.
If you've never had a custom piece of furniture made for your home before, and you want to start with something relatively small, end tables would be a great place to start! End tables are often placed in one of the most-used rooms in the home—the living room. They are intended to be functional—holding your drinks, remotes, and magazines—but they should also be beautiful. They should complement the rest of the décor in the room. However, it's great if they also stand out a bit.
Because everything we do at Three Pines is custom, we can design end tables for your Ramona, Poway, or San Diego home in whatever style you want. You can choose from many different types of wood—from more common options like oak, pine, or walnut, or from a selection of unique and exotic hardwoods. We can also help you source the perfect reclaimed wood for your project, if you want something a bit more rustic.
To show you one example of a custom end table we recently completed for one of our clients, take a look at this beauty, which was crafted using a reclaimed bourbon barrel top.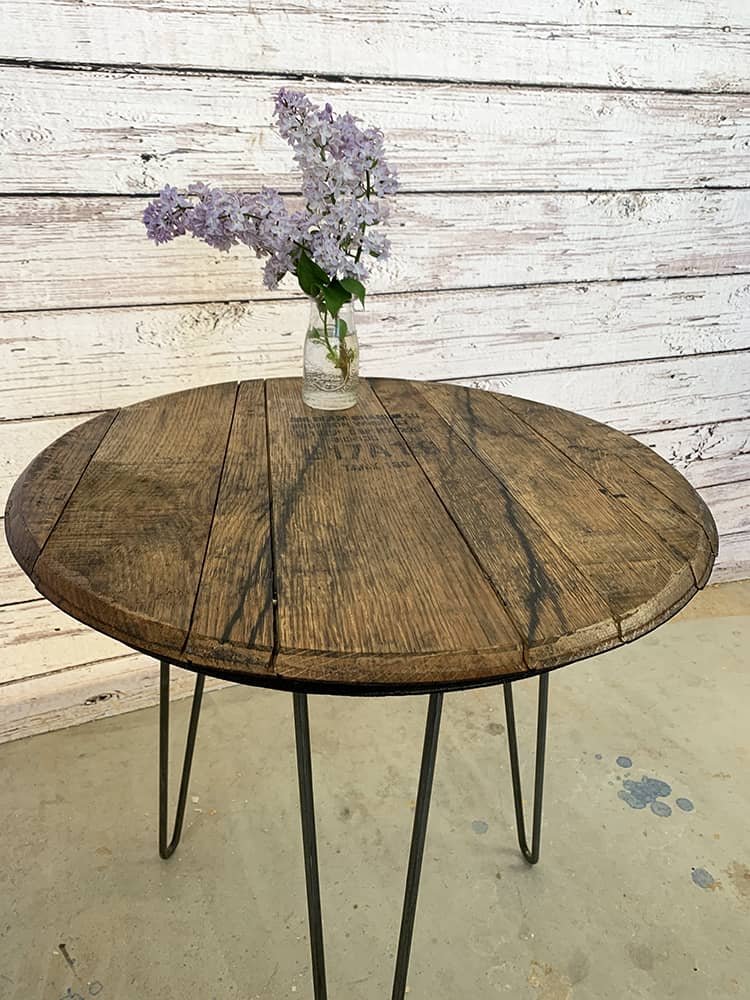 An end table like this would look great in a living room, office, or man cave. You don't even have to be a bourbon lover to appreciate this end table's charm (although it doesn't hurt). The metal hairpin legs chosen by the client give the table a mid-century modern look, but the rustic top would allow it to easily fit into a modern farmhouse-style home as well. Before we delivered the table to the client, we added a high-quality polyurethane finish to the top to protect it and make it easier to keep clean.
This end table is just one example of something we can do. If you want something similar, we could certainly modify some of the details, or we could build you something totally custom and unique to you. If you've seen a picture of something you like, we can replicate it for you in the exact dimensions you need. We also have the ability to design something from scratch, using our 3D software that puts out realistic renderings for you to approve before we begin construction.
If you have questions, or if you are ready to get started with handmade, custom end tables for your home or office in Ramona, Poway, or San Diego, contact us today at Three Pines!