In many homes throughout Ramona, Poway, and San Diego, a fireplace is the focal point of the living room. In older homes, it may be a traditional wood-burning fireplace made from brick, while newer homes might have gas-burning units with a tile surround. Most fireplaces have some sort of mantel. It could be an ornate wood mantel, a simple wood beam, or even a mantel made from drywall.
In our many years of woodworking, we've discovered that not a lot of homeowners think about changing out their mantels. It's not because they are so attached to what's there or because they love it so much, but rather they don't think that it's something that can be replaced.
Changing out your mantel can be one of the most cost-effective ways to change up the look of your living room. Your fireplace can go from boring and nondescript to the most beautiful feature in the room!
Materials for Custom Mantels
At Three Pines Wood Co., all of the mantels we build are completely custom. No one else will have a mantel like yours! You can choose whatever material you want for you mantel. Certainly, we can do a traditional white painted mantel, but we can also use any type of wood you desire, and then stain it, or simply leave it natural. Our company has access to a private sawmill with unique and rare types of wood, such as three-hundred-year-old black oak and local Torrey Pine.
If you like the look of reclaimed wood, we can help you locate the perfect rustic beam or wood planks, from which we can craft a custom mantel.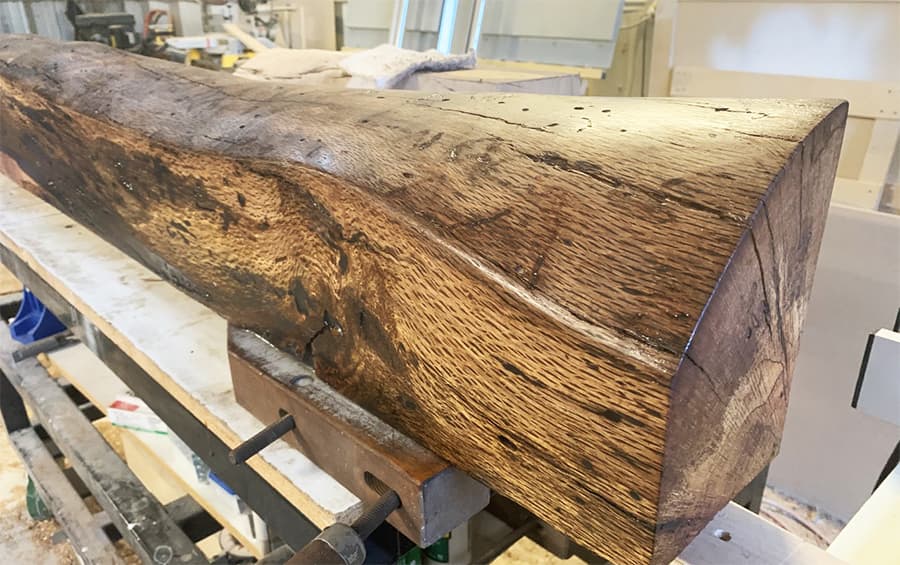 Create a True Focal Point with a Custom Mantel
Nowadays, we see a lot of homeowners hanging their televisions over their fireplaces. This places a new emphasis on the fireplace and is one more reason you might want to consider having a custom mantel built. You can keep things simple with a floating mantel or have us create something more ornate. We could even build a TV surround that complements your new mantel.
If you have a large television, you want to make sure that your mantel looks good in proportion to it, and you will want to have something a bit more substantial built. You may want to consider adding legs that go from the bottom of the mantel to the hearth, or installing some beefy corbels underneath the mantel to keep the look balanced.
Custom Features on Your Mantel
Sometimes a mantel is more than just a place to set decorative items or to hang your stockings at Christmas. With a custom mantel, we can integrate some built-in features to make yours truly unique. For example, your custom mantel could have a hidden compartment to store any number of things, from valuables to lighters to remotes.
There are so many options when it comes to custom mantels. Let us help you design something that is truly unique and complements the style of your home and your décor. Contact us to learn more or to set up an in-home consultation at your home in Ramona, Poway, or San Diego.